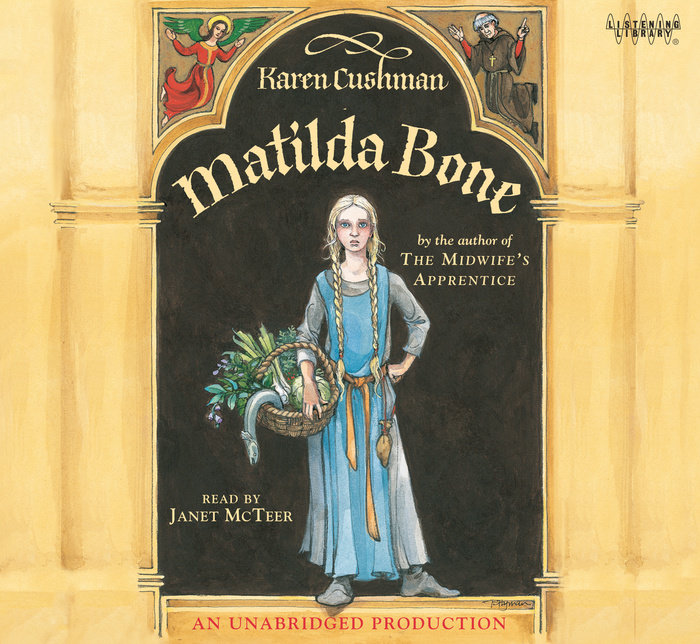 Matilda Bone


ABOUT THIS BOOK

In this compelling and funny novel, 14-year-old Matilda is taken from a comfortable and quiet life at a country manor to become an apprentice to Red Peg the Bonesetter in a small village in medieval England.

At 14 years old, Matilda is taken to Blood and Bone Alley, where she is to assist Red Peg the Bonesetter. Located in a small village in medieval England, Blood and Bone Alley is completely different from Lord Randall's manor, where Father Leufredus taught Matilda to read and write. Now she must perform mundane tasks such as tending the fire, making trips to the market, and mixing plasters and poultices for Red Peg to use in her bonesetting practice. Lonely and frightened, Matilda finds that her beliefs in prayer and study are completely ignored by the residents of Blood and Bone Alley. When Matilda finally realizes that she won't be returning to a life of solitude and serenity, she begins to adjust to life in Blood and Bone Alley and to accept its people as her friends.

ABOUT THIS AUTHOR

Karen Cushman was born in Chicago. Matilda Bone is her fourth book, her third set in medieval England. Her first, Catherine, Called Birdy, was a Newbery Honor Winner, and her second, The Midwife's Apprentice, was awarded the Newbery Medal. The Ballad of Lucy Whipple also received numerous accolades. Karen Cushman lives in Oakland, California.

TEACHING IDEAS

Pre-Reading Activity
Discuss as a class the differences between medicine today and in medieval England. Possible topics for discussion
are the changes in diagnosing and treating illnesses (e.g., the invention of penicillin) and in the role of women in medicine.

Thematic Connections
questions for group discussion

Abandonment–Matilda is orphaned at a young age. She is given a home at Lord Randall's manor, and meticulously taught reading, writing, and figures by Father Leufredus. Discuss whether Matilda's good life at the manor keeps her from feeling totally abandoned by her family. How does she feel abandoned by Father Leufredus? At what point in the novel does she realize that Father Leufredus isn't coming back? Discuss how she deals with this abandonment.

Friendship–Ask students to discuss Matilda's relationship with Effie. At what point do they become "true friends"? Matilda's relationship with Red Peg and the other people in Blood and Bone Alley changes and develops as
she realizes that Father Leufredus isn't coming back. Discuss whether it is the people around Matilda who have changed, or Matilda herself who has undergone a change.

Loneliness–Throughout the novel, Matilda says she feels lonely. Describe her loneliness when she first arrives at Blood and Bone Alley. Ask students to discuss whether Red Peg is aware of Matilda's loneliness. Matilda finally realizes that she had also been lonely at the manor with Father Leufredus. How is her loneliness at Lord Randall's manor different from her loneliness at Red Peg's house? Engage the class in a discussion about ways to deal with loneliness.

Self-Worth–In the beginning, Matilda is very awkward when performing her duties at Red Peg's shop. Red Peg tells her, "You are not good for much."(p. 17) Discuss how Matilda's feelings of self-worth change as she becomes more comfortable with Red Peg. How does Effie help Matilda's self-worth? Cite specific scenes in the novel in which Matilda is beginning to develop a sense of self-worth.

Good vs. Evil–Matilda wants to say to Father Leufredus, "All my life you have stood between me and a world you say is dangerous and evil." (p. 2) Discuss evil as seen through the eyes of Father Leufredus. How might Red Peg and the other residents of Blood and Bone Alley define evil? Discuss whether Matilda's idea of evil changes by the end of the novel.

Guilt–When Father Leufredus delivers Matilda to Red Peg, he says, "Remember all I have taught you, about right and wrong, sin and Hell, and the evils of joy and pleasure. Do always as you think I would have you do." (p. 1) Discuss with the class Matilda's efforts to abide by the words of Father Leufredus. How does her strict religious training interfere with her adjustment to life with Red Peg? How does Matilda deal with her guilt?


Connecting to the Classroom

Language Arts–At the end of the novel Matilda realizes that Father Leufredus isn't coming back for her. Write a letter that Matilda might have written to Father Leufredus telling him of her experiencesin Blood and Bone Alley. What might she say to him about not coming back for her? What might she say she misses most about her past life? How might she describe her new friends?

Karen Cushman uses humor in a setting that is dirty, dismal, and poor. Ask students to select a humorous scene and rewrite it in a more serious style. How does the rewriting change the tone of the novel? Which tone would you prefer to read?

Social Studies–Have students research medieval clothing styles. Then ask them to make a poster that compares the clothing worn by the wealthy and the clothing worn by the poor.

Science–The medical practices of the Middle Ages were quite crude, often based on myth and astrology. Divide the class into groups and ask each to research a specific type of medicine during this time. Topics might include surgery, herbal medicine, the four humors, and astrological medicine as Master Theobald practices it. Ask each group to present
its findings in class.

Nathaniel Cross suffers from poor eyesight. Matilda writes to Oxford in an effort to find help for him.
A physician at Oxford responds and alludes to the development of eyeglasses. Ask students to use various resources to research the history of eyeglasses. Construct an illustrated time line
of the development of eyeglasses.

Careers–Ask students to list all the trades listed in the novel: bonesetter, bloodletter, fishmonger, etc. Have them write a job description for each trade. How do the names of the characters represent their occupations?

Art–Have students identify the various shops that Matilda finds in Blood and Bone Alley. Then ask them to select one of the shops and make an appropriate sign for the shop. Encourage them to letter the name of the shop in a medieval style or
use a picture to represent the shop, such as a vial for the apothecary.

VOCABULARY

Encourage students to make note of unfamiliar words and try to define the words using clues from the context of the novel. Such words may include blasphemy (p. 18), heretical (p. 19), ominous (p. 21), propitious (p. 27), scullion (p. 33),
cassock (p. 42), apothecary (p. 73), repentance (p. 79), tincture (p. 111), putrefaction (p. 117), and decoction (p. 130).

AWARDS

A School Library Journal Best Book of the Year

REVIEWS

*"This humorous, frank look at life in medieval times shows readers that love and compassion, laughter and companionship, are indeed the best medicine."–Starred, School Library Journal

BEYOND THE BOOK

Internet Resources

Medieval Exhibits/Virtual Field Trips
Higgins Armory Museum, Worcester, Massachusetts
www.higgins.org
Metropolitan Museum of Art, New York, New York
www.metmuseum.org
Philadelphia Museum of Art, Philadelphia, Pennsylvania
www.philamuseum.org

Medieval Medicine
Information about medieval medicine.
www.geocities.com/MedievalWorld/LinksMedicine.html

Medieval M.D./Health
Offers students an opportunity to practice medieval medicine on virtual patients.
www.learner.org/exhibits/middleages/healtact2.html

OTHER TITLES OF INTEREST

The King's Shadow
Elizabeth Alder
Middle Ages • Friendship
Grades 6 up/0-440-22011-4

The Door in the Wall
Marguerite de Angeli
Middle Ages • Self-Worth
Grades 5 up/0-440-22779-8

The Squire's Tale
Gerald Morris
Middle Ages • Coming of Age
Grades 6 up/0-440-22823-9

Protector of the Small
Tamora Pierce
Medieval • Fantasy/Grades 6 up
First Test
0-679-88917-5
Page
0-679-88918-3
Squire
0-679-88919-1
Lady Knight
0-375-81465-5
Available May 2002

COPYRIGHT

Prepared by Pat Scales, Director of Library Services, the South Carolina Governor's School for Arts and Humanities, Greenville.