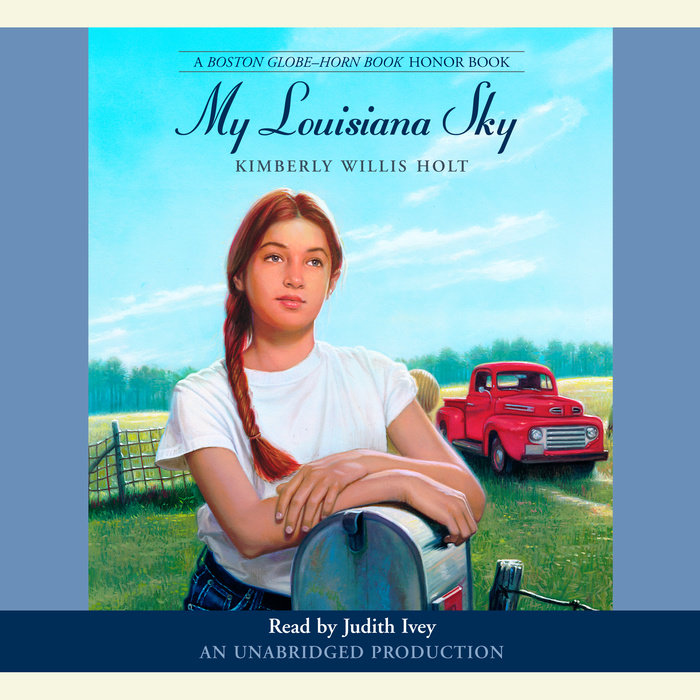 My Louisiana Sky
ABOUT THIS BOOKTiger Ann struggles to understand the sudden death of her grandmother, her mentally deficient parents, and the changes occurring within her as she grows up in 1950s rural Louisiana
.
Tiger Ann's parents are what some people call "slow," and after the death of her grandmother she would like nothing more than to leave the small, backward town of Saitter and live with her Aunt Dorie Kay in the big city of Baton Rouge. In Baton Rouge, she could reinvent herself and no one would have to know about her parents. But before she is about to leave, her life takes several unexpected turns, which prompts Tiger Ann to make the most important decision of her life.
ABOUT THIS AUTHOR
The daughter of a Navy chief, Kimberly Willis Holt lived all over the world during her childhood. But Forest Hill, Louisiana, became the place she called home. "Forest Hill is the kind of town where neighbors care when you're sick and show up at your door with chicken and dumplings. I wanted Tiger to be from a place like that," says the author. She currently lives in Amarillo, Texas, with her family. This is her first novel for young readers. Her second novel, When Zachary Beaver Came to Town, won the National Book Award and will be published in paperback by Random House Children's Books in the spring of 2001.
Born
Pensacola, Florida (during a hurricane)
Currently lives
Amarillo, Texas
Previous jobs
Directing radio news, marketing, and decorating
Hobbies
Reading and going to the movies and theater
Inspiration for writing
Memories from childhood
Favorite books
To Kill a Mockingbird and The Heart Is a Lonely Hunter
TEACHING IDEASIn the Classroom
My Louisiana Sky is Kimberly Willis Holt's beautifully told story of a young girl in rural Louisiana in the 1950s struggling to become her own person while dealing with the death of her grandmother, and the fact that her parents are both mentally deficient.
The activities offered in this guide will give the students an opportunity to discuss their feelings about growing up, accepting differences in others, as well as their concerns about friendship and difficult family relationships. The guide can also be used to span the content areas and offers research, writing, mathematics, science, art, and music activities that will enhance students' appreciation of the book.
Pre-Reading Activity
Brainstorm with your students what they think life in the 1950s was like. Make a class list of student responses. Then ask students to interview a relative, neighbor, or staff member who would have been a teenager during the 1950s about life at that time and to record their answers on paper. Have students compare the information they received from their interviews to the class list and judge the accuracy of their lists.
Thematic Connections
Acceptance
Ask the class to discuss how the people of Saitter react to the behavior of Tiger Ann's parents. How does Tiger Ann respond to the way her parents are treated? In what other ways might Tiger Ann have reacted to the ignorance of these people? Discuss how special students in your school are treated.
Family
Throughout the course of the story Tiger Ann is torn between her desire to have a a "normal" family and her love for her parents and her grandmother. At what point in the story does Tiger Ann decide to stay with her parents rather than live in Baton Rouge with Aunt Dorie Kay? What causes her to make this decision? Why does Aunt Dorie Kay consider this to be a sign that Tiger Ann is growing up?
Granny and Tiger Ann enjoy a close relationship. Gather examples of Granny's wisdom from the story and create a class list. Analyze the items on the list and discuss what Granny is trying to teach Tiger Ann. What can we learn from the older adults in our lives today?
COMING OF AGE–Tiger Ann has many emotions about her family and the people around her. Dealing with these feelings helps shape her into a person of more maturity and character. Discuss with the students Tiger Ann's inner turmoil and how she deals with her emotions. How has Tiger Ann's character evolved?
FRIENDSHIP–Many young adults feel tremendous pressure to conform to what their peer group is doing, feeling, and wearing–not wanting to be different in any way. Discuss friendship, conformity, and diversity with the class. Tiger Ann is at the age when, suddenly, friends seem to be more important than family members. What conflicts does Tiger Ann feel regarding her friends and family members? How does she cope with these conflicts?
Interdisciplinary Connections

SOCIAL STUDIES–Marlon Brando and Audrey Hepburn are two of Tiger Ann's favorite movie stars. Ask students to select information from various resources about each of the actors. Use the information to make a celebrity card for each of them. The card should have the actor's picture on the front and his/her "stats" on the back (some biographical data, awards, and starring roles in the 1950s).
MATH–While Tiger Ann is visiting her aunt in Baton Rouge, she gets a $2.00 haircut. Ask your students to investigate the cost of living in the U.S. of the 1950s. They can go to public libraries to look at old editions of the local newspaper on microfilm and compare 1950s grocery and want ad information to those in a current newspaper, for example. Have them make a chart that compares the salaries of three different occupations at that time to those same occupations today, and the prices of eight popular grocery items then to what the same items cost today. Use the information they've recorded on their charts as a catalyst for a discussion about the cost of living and inflation.
ART–Tiger Ann thinks about being more stylish. She would have liked to have a pair of pedal pushers and saddle oxford shoes, a flared poodle skirt with petticoats, and a bobbed Audrey Hepburn—style haircut. Have students research the clothing styles of typical teenagers in the 1950s and make a fashion designer's sketch that depicts the results of their research.
MUSIC–Aunt Dorie Kay and Tiger Ann dance to rock and roll music in Dorie Kay's kitchen. Have students research the development of rock and roll, which saw its beginnings in the 1950s, throughout that decade. They can use the information they have found to make an illustrated time line or an audio time line that depicts the development of rock and roll and its major influences/artists from 1950 to 1959.
LANGUAGE ARTS–Kimberly Willis Holt uses figurative language to describe her characters and their settings. Discuss the terms simile and metaphor. Divide students into groups of two or three and assign each group one chapter from the book. Have them scan their chapter and make a list of all of the similes and metaphors that they can find. Use each of the groups' lists to form a class list. Have the students write stories in which they use similes and metaphors from the class list and those of their own invention to describe their characters and settings.
SCIENCE–Tiger Ann's father says that he can predict the weather by observing and listening to the animals. Because of this skill he becomes a hero of sorts at the end of the story. After a study of weather and the methods a meteorologist uses to make a weather report, have students list atmospheric changes that animals may sense without the use of the meteorological instrumentation that humans need to predict changes in the weather.
VOCABULARY
Good writers are always looking for the perfect word and many keep a writer's notebook in which they jot down ideas, snatches of overheard conversations, and words. Ask students to keep a list of words that Kimberly Willis Holt uses in her writing that they would like to incorporate into their own writing.
REVIEWS
"Making an unusually auspicious debut, Holt offers a unique coming-of-age tale…readers…will admire [Tiger's] courage, loyalty and love for her parents." - Starred,
Publishers Weekly
"Holt…eases the action along with a low-key, unpretentious plot…uncannily credible characters." - Starred,
The Horn Book Magazine
"Tiger has a distinctive voice, and her subtle observations include an increasing awareness of those marginalized by difference of class, race, and intelligence."
The Bulletin
FURTHER READING
The Islander by Cynthia Rylant[0-440-41542-X]
Moving Mama to Town by Ronder T. Young[0-440-41455-5]
Radiance Descending by Paula Fox[0-440-22748-8]
ADDITIONAL RESOURCES
http://www.state.la.us/state/profile.htm
http://www.ci.baton-rouge.la.us/
http://www.athealth.com/